Regular price
$187.00 USD
Regular price
$187.00 USD
Sale price
$187.00 USD
Unit price
per
Sale
Sold out
Try something new this year, and surprise your loved ones with a unique and memorable birthday gift. The "Happy Birthday" Visual Books are the perfect birthday gift for your friends, partners, parents, siblings and all your loved ones.
No WIFI or Bluetooth connection is required.
What Formats Does the Visual Book Support?

For videos

The Visual Book supports the following formats: mp4, avi, and MOV.

You can directly upload your videos to the Visual Book using the built-in audio and display features. This allows you to watch your videos in a stunning, high-resolution format that brings your memories to life.

Alternatively, you can create a slideshow mixing photos and videos using the photo button on the Visual Book. This allows you to create a seamless and engaging experience that showcases your memories in a dynamic and captivating way.

 

For photos

The photo button on the Visual Book supports the following image formats: jpeg and png.

You can directly connect your device to the Visual Book to upload your photos and create a beautiful photo album. We strongly recommend using landscape images for the best display on the Visual Book, as the large, high-resolution screen is perfect for showcasing your photos in all their glory.

 

Overall, the Visual Book is a versatile and easy-to-use tool for preserving and sharing your memories. Whether you have photos, videos, or both, the Visual Book provides a unique and engaging way to showcase your memories in a timeless and enduring format.
What's in the box?

A video book
USB-C/ USB cable
Guide book
Warranty card
Thank you card
Blank card (to write a message)
TECHNICAL DESCRIPTION

SCREEN SIZES

 7"IPS LCD Display

10.1"IPS LCD Display

RESOLUTION: 1024 x 600p

STORAGE/MEMORY

4GB  (ALLOWS UP TO 2 HOURS OF VIDEO)

8GB (ALLOWS UP TO 4 HOURS OF VIDEO)

DIMENSIONS

210 x 148 x 10mm (A5 SIZE) 

255 x 188 x 14.5mm (A4 SIZE)

BATTERY: 2000mAh RECHARGEABLE (FOR UP TO 3 HOURS OF PLAYTIME)

WEIGHT

300g 

500g

ASPECT RATIO: 16:9 

CHARGING CABLE: MICRO USB (INCLUDED IN ALL ORDERS)

BUTTONS: VIDEO, PHOTO, PLAY, PAUSE, VOL. UP, VOLUME DOWN, MUTE, PREVIOUS, NEXT

SENSOR: MAGNETIC/ LIGHT SENSOR/ MOTION SENSOR FOR AUTO PLAY  
Shipping & Returns

We ship worldwide.

UK shipping

If you choose to upload your videos yourself, shipping takes 2 -3 working days.

If we are uploading your videos, shipping takes 3 -5 working days.

EU shipping

3 - 11 working days

International Shipping 

6- 14 working days
Warranty

The device comes with a 6-month warranty from the original date of purchase.

The warranty is only limited to manufacturing defects.

However, the warranty does not cover loss, theft or damage, and changes in appearance resulting from ill-treatment of the product.
Material

HARDCOVER WITH LINEN BINDING  
Share
View full details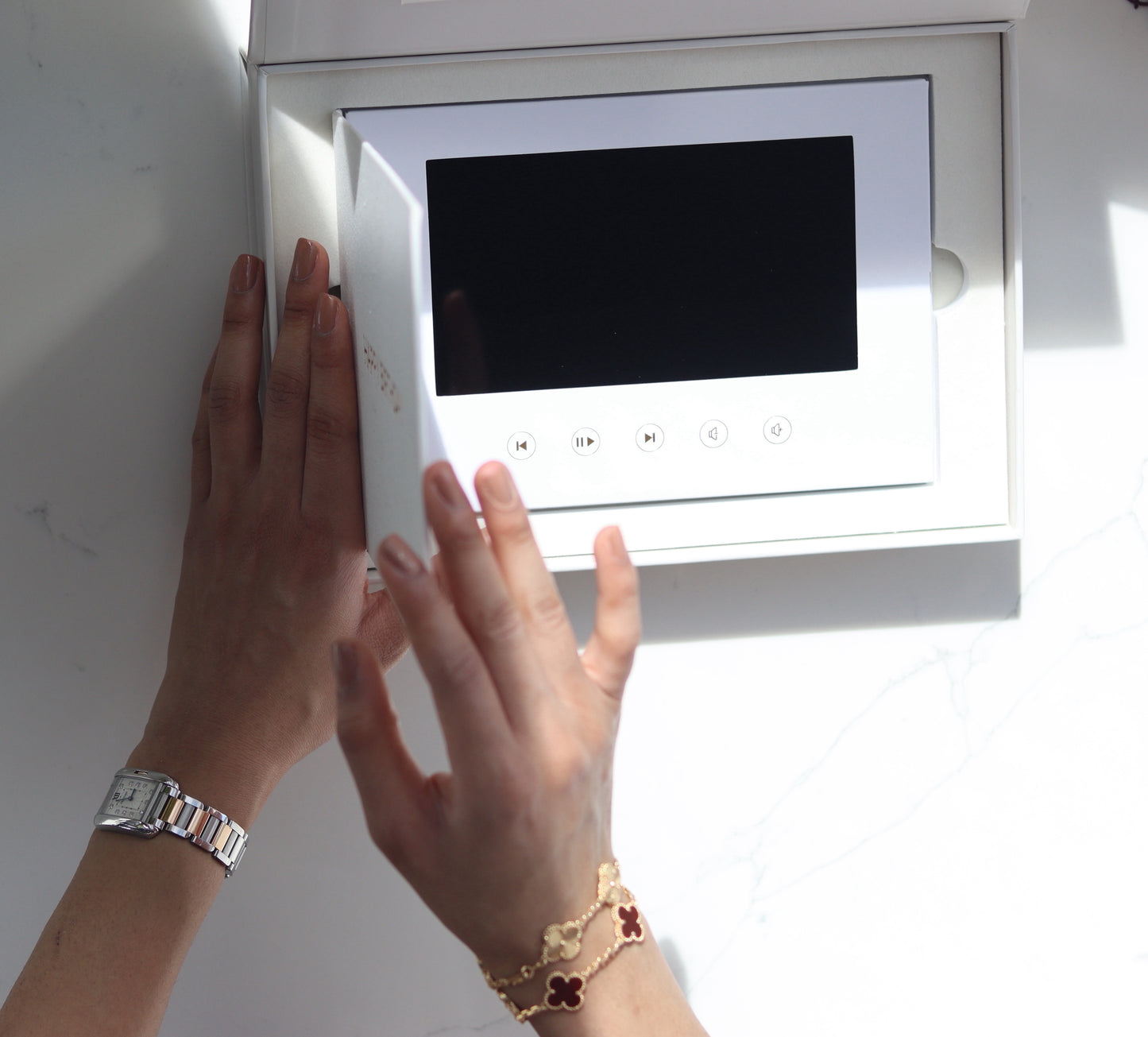 fav gift
Immediately after i ordered, it only took a couple hours for a confirmation respond back and that my order was being worked on. It only took 4/5days for my order to arrive in a beautiful package. the videos in the book are amazing and good quality and this gift is definitely the best you could give to your loved ones. Service was immaculate and i cant thank visual book enough, i specifc: Iman <3
Best customer service!
The visual book arrived today and I'm so happy with the outcome, thank you for your hard work to make this exactly how I wanted and being attentive to my special requests🥹 thank you again, I'll be back when I give it to my boyfriend for his bday with his reaction
Best gift ever !!
I bought this for my mums birthday and added a collection of videos and pictures of her and her friends! It came and was absolutely more than I could've expected! Such a fantastic idea and gift! For personal reasons I had to contact customer services to remove a few pictures and they responded straight away and were super helpful! I couldn't recommend this gift and business enough xx
The best gift ever
I ordered a Happy birthday book for my sister/best friend. It was a compilation of her loved ones wishing her the best. It made her cry ! Visual book is an amazing way to present videos and preserve memories! The support at visual book was also amazing. I forgot to include a video and all I had to was email the team ! The customer service and product is like no other. If you're contemplating on ordering one, this is your sign to. Thank you Visual book !
Happy Birthday Gift
I wanted to purchase a Happy Birthday visual book for my partner but had left it quite late to put through an order for it to be delivered on time. I contacted the team at Visual Books who were really helpful and agreed to give me the extra time I needed to ensure I was able to gift my partner this special gift. Great customer service through and through and he loved it! Thanks again!
TELL ME MORE!

The VISUAL BOOK allows you to relive your special moments and memories. 

Our Video Books are distinguished by their classic elements, functional design, and exceptional quality.

The screen is IPS, which means our books are highly accurate in terms of colour, they have good viewing angles and are exceptionally well-made.

Each book is a unique piece, made with the finest materials and precision craftsmanship made to last.

A USB charger is included with every order to make sure your video book is always ready to go.

With the USB/USB-C provided, you can always change your videos. simply connect the visual book to any computer and upload your video onto the device, just like how you would do it with any other USB drive.